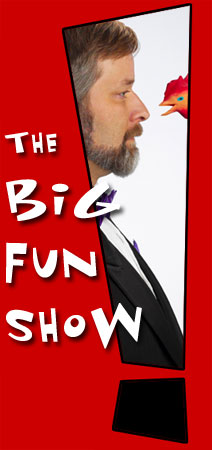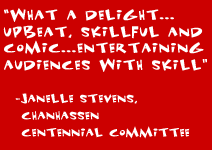 Big Fun Show! – Our most popular show! A one man circus of comedy juggling, magic and audience interaction. Wacky and creative, it combines many arts into one show. Kids and parents love it. Popular with festivals and fairs, it can travel with a self-contained sound system.
Comedy Mind Reading – the Rouge Mystic. Ever had your mind read? This professional psychic will do that and more. He'll predict the future, read the minds of ten randomly selected strangers, and entertain with impossible experiments in ESP. This show may be combined with palm reading at a discounted rate. Popular for holiday banquets and teen events. This show won the Best New Act award at the Minnesota Renaissance Festival.
Doc Rocket's Traveling Circus of Mystery and Wild West Ten-in-One Show! - Ten unique acts! Want to see amazing skills and intriguing magic? Then this is the show you want. Whip cracking, bottle tossing, card sharkin', the 11-box balance, a genuine sideshow carnival ballyhoo, china plates on tiny bamboo sticks – in the hands of five volunteers, the endless pitcher of water, the vanishing elephant, 8 ball juggling, real western lariat spinnin', and the new-fangled mono-cycle.
Mississippi Pete – Ever wondered why gamblers always win? Meet the charming gentleman "Mississippi Pete" and learn the ins and outs of gambling cheats. He'll happily show you scams ancient and modern and educate you about the very same games that have made millions of dollars. Three card monte,
the endless chain, cups and balls, a poker game that can't be won – all real, all "just like downtown." A unique and memorable guest for your next event.
A dinner to remember... – Having a dozen friends over? Or a businesses dinner for an important client? Give them an evening they'll talk about for months. Invite a professional magician to entertain with his very best illusions...in an intimate setting. Your guests will enjoy experiencing charming illusions, a mind
reading demonstration, classic sleight of hand manipulations, and a few dozen surprises, all done in a warm, friendly comedy style that intrigues, amazes and delights discerning audiences. Advance booking required. (Often booked with a pre-dinner palm reading table.)

Portable Poetry Pete – An amazing carnival booth with a unique souvenir. Meet Pete, the fastest writer in the west. He'll write an instant poem for you — on the spot! Kids love it. Its a show! Its a booth! Its unique!

Plus strolling, sleight of hand magic, unique balloons, palm reading, unique characters, custom shows, interactive juggling and trade shows. And more...